Child Support and You – We Can Help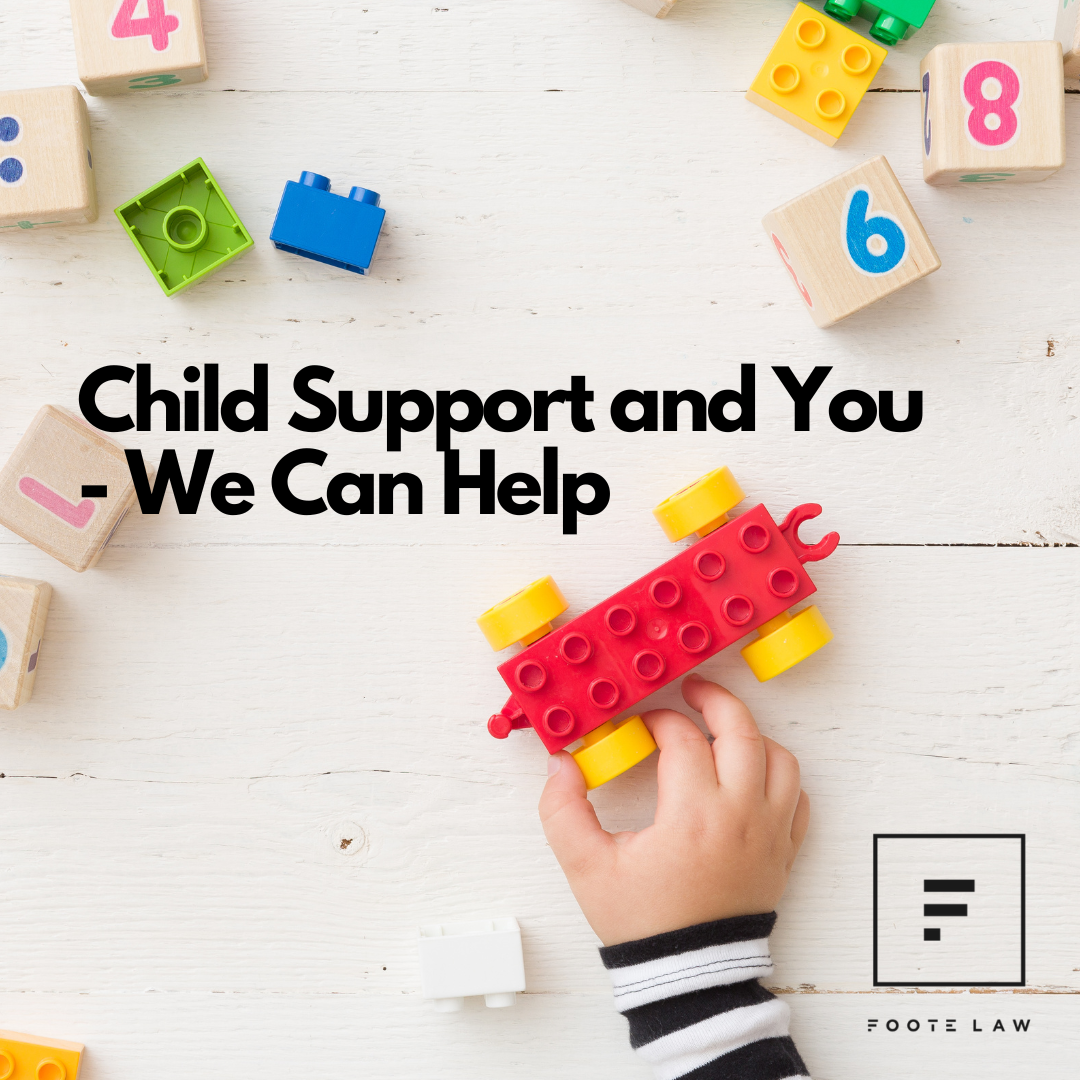 Child Support and You – We Can Help
If there is one issue during divorce proceedings that tends to be more divisive than any other, it is probably custody and child support payments. This is not to say it is always the case of course, but it is an issue of family law that you will want to be familiar with before signing off on any type of agreement. If you have questions about child support, including what is owed, how it should be paid out and collected, and how it is calculated, the team at Foote Law can address your concerns and answer your questions. Every family situation is unique, so having expert advice on such an important issue as child support is crucial.
We put families first in any family law proceedings. Obtaining accurate, timely, and relevant information to determine appropriate child support payments is time-consuming and can be contentious. Foote Law believes in compassionate and equitable solutions arrived at with due consideration and care, all while handled with sensitivity. Considerations include:
A fair and accurate determination of income.
Annual adjustments for child support purposes.
Thorough research and examination of financial records – particularly if there are attempts at hiding income, self-employment income, or other factors influencing the potential accuracy of the financial information from one party or the other.
Biological parent status vs. stepparent status.
Consideration of extraordinary expenses such as medical expenses or extracurricular activities.
In other words, a significant amount of time is involved when it comes to determining what amount of child support payments are required for YOUR family and in YOUR particular financial situation. Here is what you can expect to be asked and/or to provide and how Foote Law can help walk you through the process.
Who Pays Support?
Most often, if one parent has the primary residence, or more than 40% of the time, of the child or children, the other parent is responsible to pay an amount of child support as determined. The amount will depend, at least at a minimum, on how many children are being supported, and the income of the parent paying the support.
Shared or split residency of the child/children will typically result in a reduction in the amount of child support payable.
In some cases, child support payments are made through the Family Responsibility Office, although in some cases they can be made directly from the payor to the
Who Receives Payments?
Referring to the above point for your answer, there is also the matter of the age of the children, and their biological status may also be a factor.
Generally, child support is payable for children under the age of 18 or over that age if they are in full-time attendance at school or have a disability rendering them unable to live independently without support.
In some cases, for example when a child/children from a prior relationship, reside and are supported by a non-biological parent during the time their parents are residing together as a family,

–

child support may also be payable, by the non-biological parent.
How is Child Support Calculated?
As we mentioned in our opening paragraph, the process of determining child support payments can be a complicated one.  Several factors must be considered including:
The incomes of the parties; What is their total annual income?
Who will the children be residing with primarily?
How many children are being supported?
Do Federal or Provincial Guidelines apply?
Is there an undue hardship

s

(a medical condition for example) claim by the payor, that will influence the payment amount?
Are there daycare expenses or other expenses that must be considered?
All these questions and many others, including such issues as self-employment or negligent reporting of income as examples, must be determined to come to a full and fair agreement for everyone involved.  Foote Law supports families first and with care and compassion. However, that does not mean we will not fight for what is rightfully yours. Foote Law supports clients every step of the way, determines and gathers, the paperwork and combs through documents (with the help of experts when necessary) to fully understand both parties' finances and how it will impact the issue of child support, whether you are the payor or the recipient. If you would like to learn more about the child support process and how it may impact you, contact the Foote Law team and speak to one of our experts today.