Why a Marriage Contract is important in 2022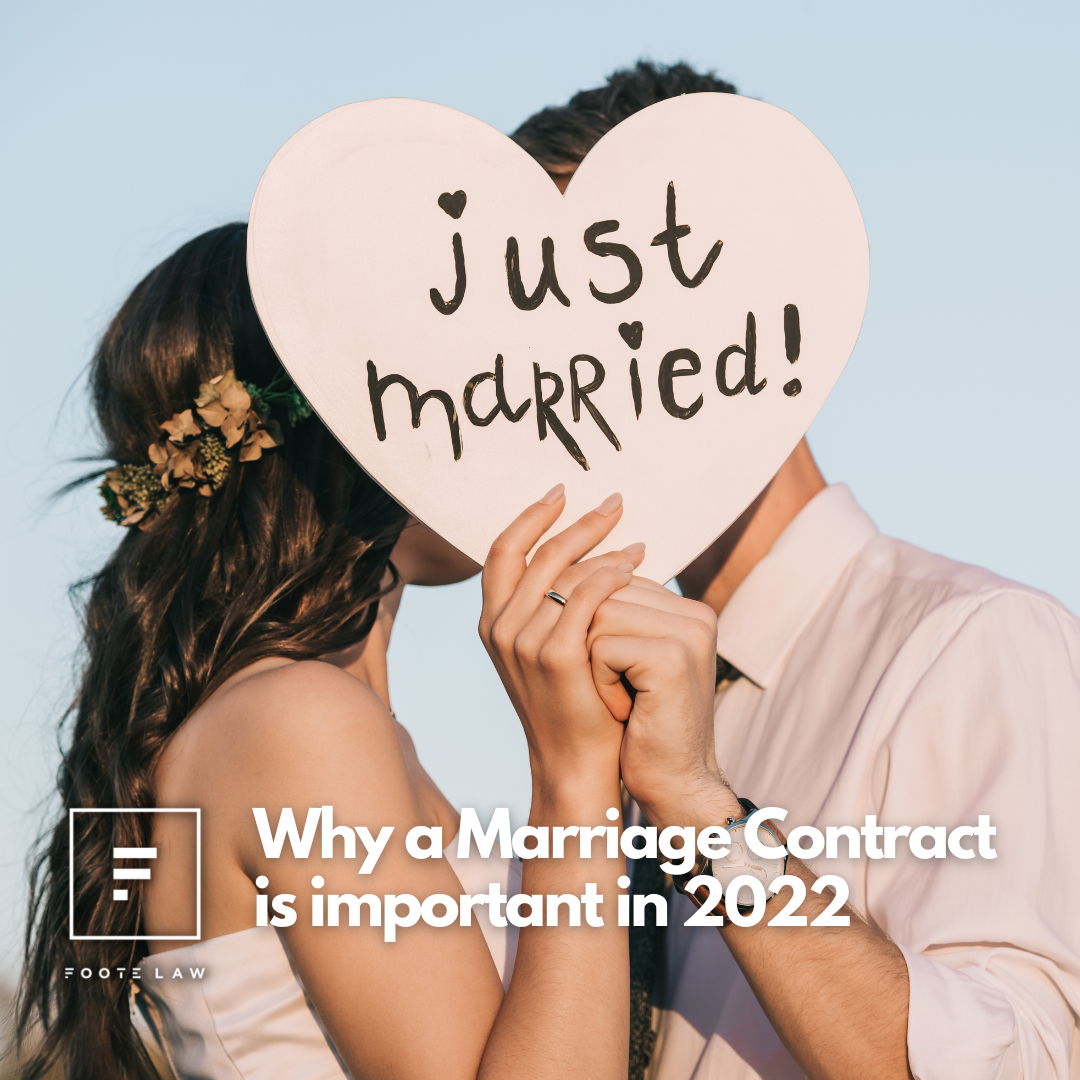 Marriage brings with it thoughts of love, fidelity, and a plan to share a lifetime of special moments and memories with your significant other. However, what happens if love fails? There are any number of reasons to consider having a marriage contract, and we plan to discuss them here. Certainly, the potential demise of a marriage is reason enough to consider a marriage contract. This blog looks at why a marriage contract is so important in 2022, perhaps more so than it might have been in 1922!
The reality of marriage in 2022 is that there is often so much more than just love involved. For example, with second marriages come second families and step-relationships. There could be two family homes involved as people come together in marriage, and often there are many other factors at play as well, including:
Age of the parties
Children and stepchildren
Varying income levels and/or income earning potential
Illness and disability – permanent or temporary
A variety of assets, potential heirs, custody arrangements, and income support arrangements
In other words, getting married is no longer as simple as a cliched "til death do us part." As a result of these and many other challenges, some couples are now looking to establish clearly defined guidelines before they get married. We can help.
Without a marriage contract
If a marriage contract, sometimes formerly referred to as a prenuptial agreement, is not in place in the Province of Ontario, generally, a separation or divorce will mean that your assets become subject to the Family Law Act, where – broadly – you would see an equalization of net family properties have shared more detailed information about this in a previous blog. Such a process of equalization. may not always result in an adequate accounting of the varied familial and financial situations of each party entering into the marriage and could mean an unfair equalization of unprotected assets.
With a marriage contract
It can protect financial assets that were accrued prior to the marriage. It may also address specific instructions for how those assets are to be divided. Pensions or real estate assets are a good example.
It may also detail specific arrangements for the division of assets obtained during the marriage and address financial support for the spouse or any children.
What a marriage contract can't do
A contract will not make or be used to enforce rules about custody of any children, including who has a primary residence and/or decision-making responsibility of the Children.
In order for a marriage contract to be legally binding, it must be entered into freely by both parties and without coercion or under duress. It is in the best interests of both parties to be open and honest about their financial situations before marriage, and there may be some extensive disclosures of financial documents required before the contract is formalized. It is also in the best interests of both parties to obtain independent legal advice to ensure they are equally protected and understand their rights and obligations. Contracts that appear on judicial review to be unfairly weighted in favour of one party may still be subject to litigation. If you are investing in the process of obtaining a marriage contract, it makes good sense to ensure that you have done everything possible to ensure it is comprehensive, assets have been fully disclosed and discussed, and that each party enters into the contract freely and with a fulsome understanding of what it includes and does not include.
Retaining the services of a lawyer for a marriage contract ensures that you understand both the rights under the law that you already have and the rights and protections you will receive under the terms of the marriage contract. It will ensure you know what you might be giving up as part of this legally binding arrangement, and that's why it is important to consider obtaining independent legal advice.
Finally, a marriage contract might also actually help provide peace of mind as you enter into a marriage, as it eliminates the potential for financial disagreements or misunderstandings around assets. With everything clearly defined in a marriage contract, it may allow the two parties to simply focus on one another! Family concerns are also eliminated if children or other parties feel their parents are protected properly by the terms of a marriage contract.
Entering into a state of matrimony is an important step in anyone's life journey, and it is certainly not a decision most of us undertake lightly. If there are other matters that may impact the marriage, such as those we have discussed here, it is even more important that you take the time and due consideration to consult with a legal practice like ours, specializing in family law, to ensure each party is protected and has only to worry about the love, honour and making special memories part of their marriage!